I thought I'd pass along, I went out on my first multi-day trip Friday, 5/27 thru 5/30 after my 1st BFT. I haven't been on much more than ~30lb YFT many years ago, so very limited practical experience.
On Friday, the Searcher took us out ~ 30mi off Ensenada, really windy, producing 3ft mixed-up chop, which really tossed the boat around. We fished all day and all night, and most were catching a couple of ~30lb BFT. I was set up and fishing the same sinker rigs and jigs as most everyone else and I was still getting blanked. Later on Saturday, the skipper headed back North and ended us ~ 15mi off of Rosarito with the Fleet. The bite started producing bigger 50+ BFT and some fish over 150# - 180# started coming over the rail. Pretty exciting to see that.
Finally at noon on Sunday, I got bit on my 2-speed Avet HX Raptor (100# braid, 80# mono and #80 flouro leader), fishing a sinker rig. I lost almost 300 yards of line right off the bat. Finally, I started gaining line back, then a seal showed up. He chased my fish under the boat and my mono line was rubbing on the hull. I handed-off my rod and both deck hands managed to get the fish turned away from the boat. After a sprint lap around the the boat and 2 gaffs later, I had a #160lb BFT on the deck. Thank God! ......what a gift. I continued fishing the rest of Sunday, with no more bites and hit the sack for Zzzzzzzzzzzz.
Overall the Searcher did really well filling the hold with solid fish.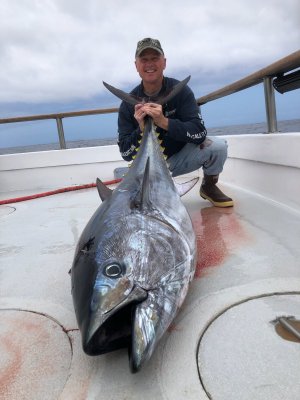 Last edited by a moderator: