Last month my good friend Terry AKA Offhand-Airgunner, received notice that he had been accepted to participate in Daystate's ASP program. This program was designed to give support to vloggers, budding journalists, hunters and competition shooters. Working alongside Brocock and MTC Optics this program is designed to deliver rifles and scopes into the hands of those that need support to further their careers in the Airgun world. Terry was very excited to participate and received his first gun, a Daystate Renegade HP .25 sent directly to him by
​
.


​
Terry wasted no time and got the Renegade into the field as soon as possible for it's first hunt before a cold front hit. The winter here has made getting out in the field very difficult, the cold weather makes the hunting quite slow. The following week we received a good amount of rain and snow here in CA that closed many of the roads leading into the mountains. Last week we had a good break with the weather so we ventured into the snowcapped mountains for a day of hunting. Marley and I were happy to get out of the house and although I wouldn't be hunting it was nice to just get away. Terry and I loaded the Jeep early Saturday morning and traveled several hours into the nearby mountains that received a good amount of snow.
​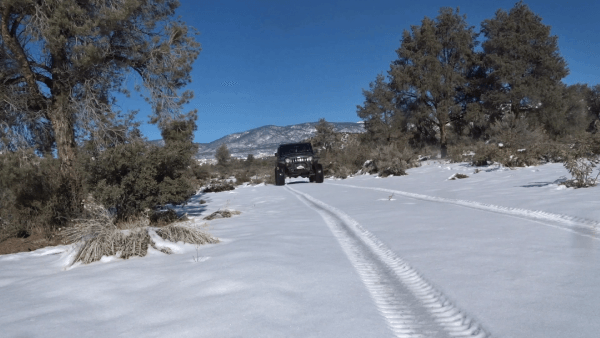 The entire high desert terrain had been transformed into what looked like a winter wonderland, simply breathtaking. We made a few stops along the way so I could capture some footage for the enclosed video. Terry unloaded the Renegade that came with a very nice carry case, perfect for securing the rifle through these rugged trails.


​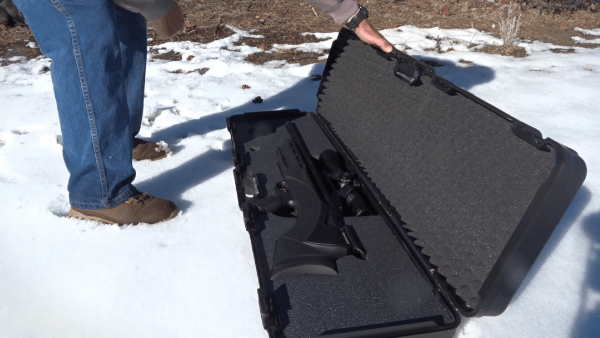 ​

Terry set up his portable bench and put a target out at 75 yards to zero the rifle and do some practice before the hunt. The Renegade was prepped by Airguns Of Arizona to be able to shoot slugs. Terry brought some NSA 33.5gr that were a good match for the rifle and were traveling at just over 900fps producing just over 60fpe.


​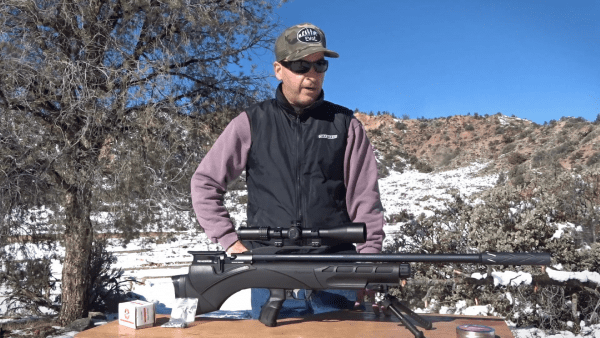 ​

The Aztec Optics

5.5-25×50 (FFP) scope

fit well to the gun and he said was very clear and useable in both target shooting and hunting. Beyond the scope he was outfitted with a

0db moderator

that proved to quiet down the gun considerably as to be a bit more discreet in the hunting area. Terry spent some time practicing out to 75 yards while I filmed and photographed, such a beautiful day to be out.
​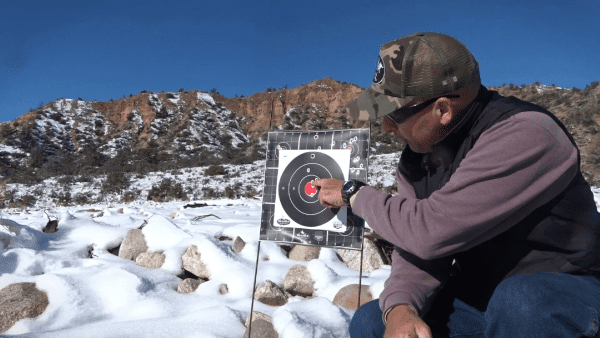 ​

The

33.5gr NSA slugs

worked really well out of the Renegade, I couldn't help but to take a few shots with it myself. After some practice with the rifle Terry, Marley and I were ready to head out to search for some rabbits and hares.
​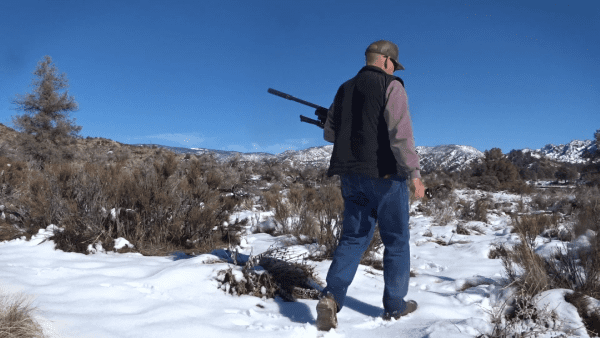 ​

Terry had never hunted snow before, this time of year is extremely difficult and offers huge challenges. Finding rabbits and hares is Marley's expertise and she is about as professional as they come. After some hiking we came to an overlook that offered a good view of the riverbed and mountain ranges.


​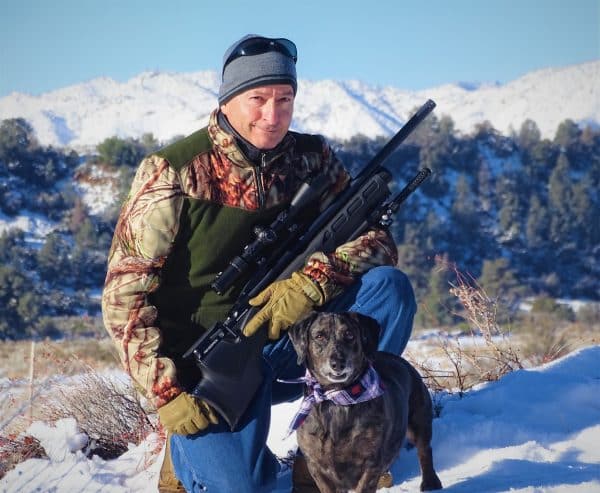 ​

During winter the rabbits and hares are usually held up in deep cover and in some cases under the snow in somewhat of an igloo. The sagebrush is covered in snow but as the snow thaws it's sometimes possible to flush them either by dog or walking close by.


​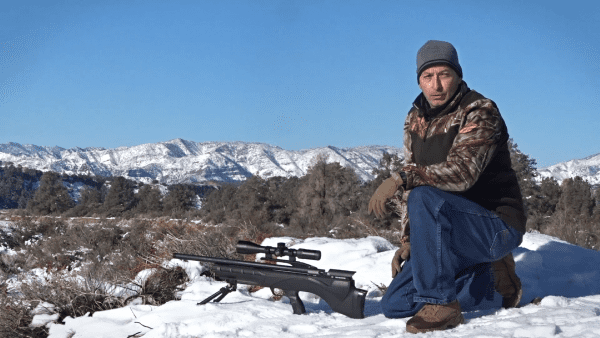 ​

After a short break he continued his hike parallel with the riverbed, stopping frequently to glass the sagebrush.


​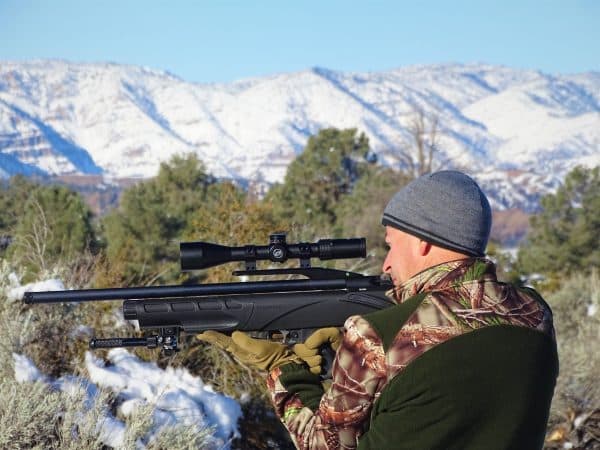 ​

We soon decided to cross the river that for the most part was frozen over near 200 yards across. On the other side of the river were the foothills to the larger mountain ranges, looked very promising.


​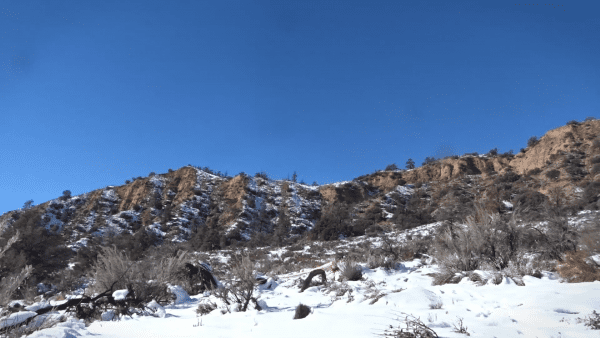 ​

Several hours of not seeing any rabbits or hares can get very frustrating, Terry hoped that the higher elevations may be better. I stayed back with the camera and watched them weave through the sagebrush that would eventually lead up into the mountains.


​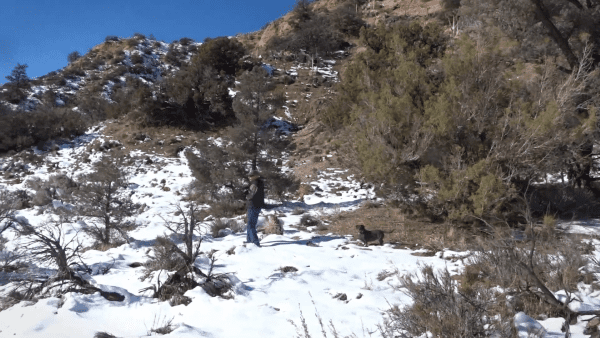 ​

Much of the snow had already melted on some of the hillsides that made seeing movement much easier. We hiked up higher to work the ridgelines, this offers much better view.


​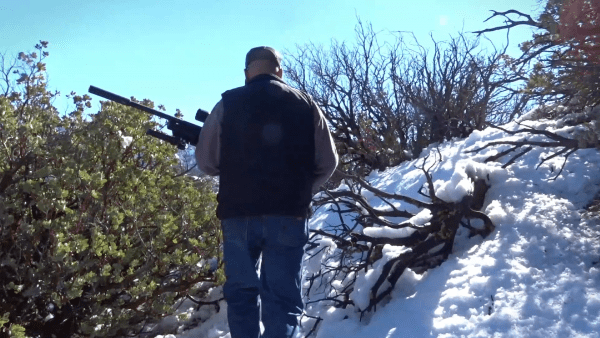 ​

The hill had a maze of very dense bushes, took some maneuvering to get through. Some of the areas had a ton of yucca that required me lifting Marley over so she wouldn't get poked. As Terry made his way to the top of the ridgeline we sent Marley down into a ravine to flush out anything that might be hunkered down.


​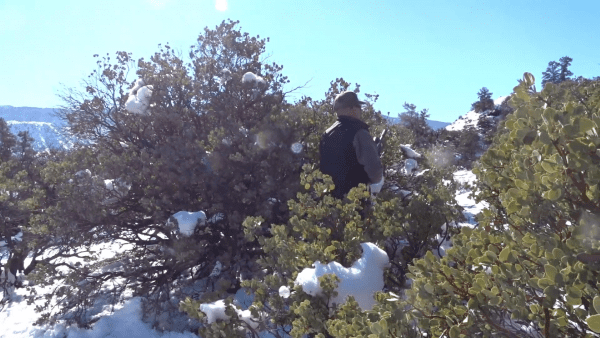 ​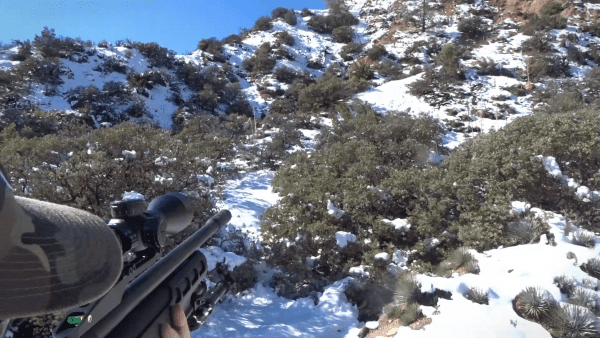 ​

Marley ended up flushing a Cottontail, it quickly moved from bush to bush before stopping at 75 yards offering a great shot. The very distinct THWAACK made apparent Terry had connected the 33.5gr NSA slug. Marley set out up the hill to recover but had not seen exactly where the bunny went down. With me behind running the camera we made way to the kill site where we found Marley coveting "her" bunny.lol


​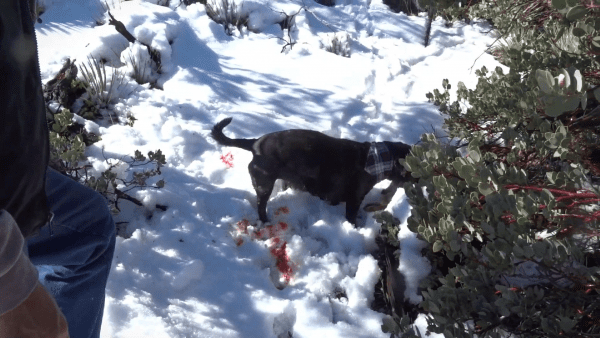 ​

The Cottontail went down hard with a neck shot, a very large hole that left an incredible amount of blood in the snow. Terry was more than pleased to have such great luck on getting a Cottontail in such a difficult area to hunt. The .25 Renegade is no doubt an excellent rifle to hunt with in such unforgiving terrain. I was blessed to have captured most all the action on camera, nice to go behind the scenes for once and enjoyed the experience very much.


​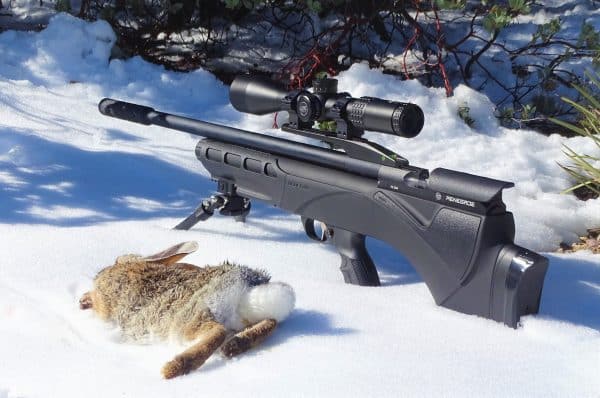 ​

After a short break we headed back across the river to the Jeep, my feet were wet and I was exhausted from hiking around all day with all the camera gear. Back at the Jeep we started a fire to warm up our bones and to add some atmosphere to Terry's final thoughts on the Renegade.

​
For me it's sometimes nice to have the opportunity to get behind the camera instead of in front of it, very enjoyable. I can't wait to get back out and spend a few days camping in this beautiful area, hope to share more soon. Here is the video that includes this hunt towards the end.
​
​
​


​
​
​








​