Mar 5, 2021
100
196
43
60
Took my Uncle and a buddy, Joe, from work out Saturday night . Joe has been on many Party boats and multi day trips but never fished the Wall.
Got out about 5:30; with a incoming tide we started on the inside of the Long Beach Wall for about 1 hour with nothing to speak of. Moved to the outside to find the fish biting good. Moving was a good decision ! We had a pretty much wide open bite for 3+ hours. My buddy caught this 5.89 Calico for the biggest fish of the night and a dozen or so others.
At one point I went 8 for 8 casts; I caught about 35 fish throughout the night. About 10:45 pm I had a subtle bite, set the hook and could never stop whatever it was. It was no Calico; cuz it took off running from me at the front of the boat running the trolling motor towards the open ocean. I couldn't stop it and couldn't turn the handle on the reel. Tried to loosen the drag from locked down but wasn't fast enough before it broke the 25lb mono I was using with a 6" swimbait. Wish I would have at least seen it !!!
Moved a little after 11 to just below L10, with the fish still biting. Headed in just after midnight; kept a few eaters for the bbq, the rest were all released.
So glad to be able to spend time with my Uncle and to treat my buddy to a night on the Wall.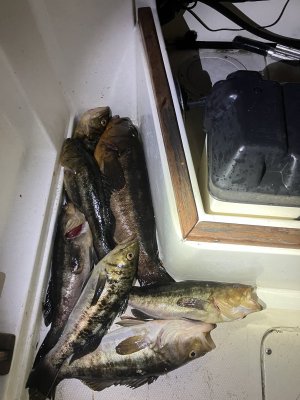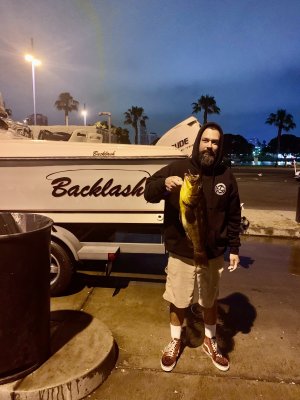 Last edited by a moderator: